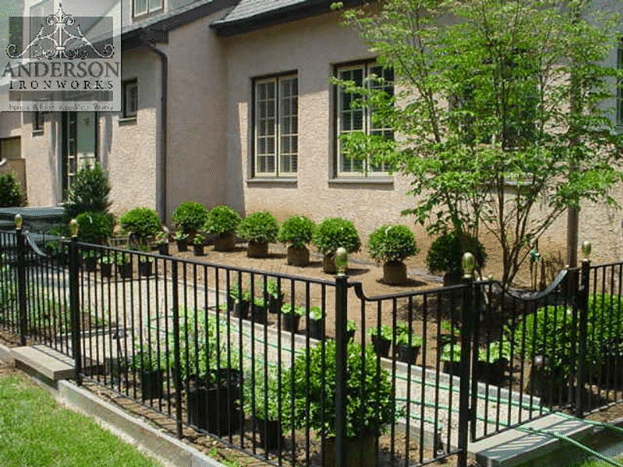 As a homeowner, you have your choice of fence companies in Bucks County Pa, so choose quality with Anderson Ironworks. Anderson Ironworks is an award-winning company in metalwork. With over 50 years in business, we take pride in the knowledge we've gained from studying old masters to applying modern advances. A fence we install will endure the years, beautifying and protecting your property.
Beautiful to Look At:
Whether you have your own design ideas or you'd like to look through our variety of wrought iron fencing options ranging from formal to ornate, you'll find something to fit your style. If you're looking for a more stately aesthetic, we offer a simple, straight picket-style fence. Or if you'd like something more decorative, we can show you designs that are more Victorian in nature and others that fit the more rounded look of Hairpin-style fencing. For something extra special to set your home apart, consider our estate-style picket fencing.
Deterrent to Danger:
Wrought iron is incredibly strong and nearly indestructible. This makes wrought iron fencing very secure. However, for an added safety measure, Victorian-style wrought iron fencing traditionally has sharp spindles along the top of the rail, discouraging trespassers.
Extremely Long Lasting:
Wrought iron picket fence dates back to the 17th and 18th centuries. In fact, one such fence erected in 17th-century England is still in service! Wrought iron is already incredibly durable by nature. Add to that modern technology and you extend the life of this fencing even more. Today, we use what we've learned to treat our iron fencing against wind, rain, heat, and cold elements.
#1 Fence Company in Bucks County, Pa
If you want a fence, gate, or any piece made from wrought iron, make Anderson Ironworks your first contact. Our artistry, expertise, and service place us well above the rest. Together with your input, we will create a piece that tastefully speaks to any style. Call us today at (215) 886-1170!