Custom Metal Signs for Your Business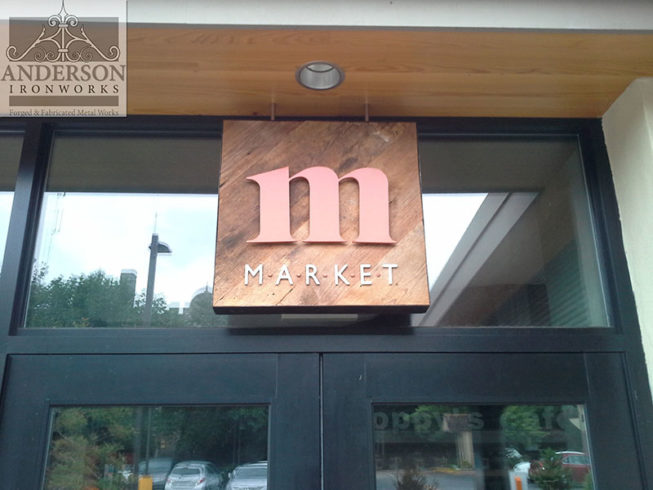 If your company has just moved locations and you need a new sign, or you're just looking to modernize your brand, a custom CORTEN steel sign is the perfect way to let everyone know you mean business.
Anderson Ironworks specializes in custom ironworking for both residential and commercial clients, and a popular project we enjoy is CORTEN Steel and other metal sheet-working for businesses.
A sign is one of the first things people will notice when they come to your place of business, so you want to make the right first impression.
A custom metal sign is stylistic and modern, a great way to represent your brand and logo. Your sign can have your company name cut from the metal or layered on top. If you're not sure what you want, but are considering a metal sign, no problem! You can view our portfolio for ideas or set up a consultation.
Personalize Your Custom Metal Sign – Your Business, Your Vision
Your vision and aesthetic are important to us. We want to help bring the dream you have for your business to life. At Anderson Ironworks, we understand that a custom metal sign can set the tone for how people perceive your company. We'll work with you to find the right design and look for your sign that represents your business and your vision.
Here's how:
1. Consultation – We meet with you to discuss your vision. We can do this in-person or online. During this consultation, we actively listen to your vision, learning as much as possible about your preferred design, your timeline, and your budget. From this information, we will provide you with an initial quote.
2. Design – We take what we learned and make preliminary designs, getting your approval as we go!
3. Fabrication – With the approved designs, we order the necessary materials and begin the fabrication and design process.
4. Finish – We ground, sand, and prep all items for finish.
5. Installation – If part of your contract, we expertly install your custom metal sign on-site.
No matter your vision, we take pride in being the best at what we do. With our combined expertise, experience, and craftsmanship, we settle for nothing short of excellence when it comes to your custom metal sign.
To get started on your custom metal sign, contact us today about scheduling a consultation by giving us a call at 215-886-1170 or by filling out our online form.