Wrought Iron Fence
Anderson Ironworks designs and builds wrought iron fence with all the care of the old world masters.  Our pre-designed or custom made fence will endure throughout the years, beautifying and protecting the property it surrounds.
As opposed to other fence types, an iron fence is a property enhancement and investment in equity.  It offers generations of use, style, security and safety.
Victorian Style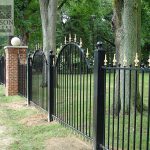 The neighboring city of Philadelphia, PA has historical wrought iron picket fences as old as our country.  Iron picket is the oldest of all metal fence with ancestry dating back to the 17th and 18th centuries.  In England, fence erected in the 17th century is still in service!
See our six pre-designed Victorian Picket Iron Fence styles here.
Hairpin & Estate Styles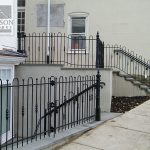 We can build your fence in virtually any height, width, and weight, and with ornamentation as desired.  Our PDF catalog is just a small sample of our capability's.  Custom designs are welcome and encouraged.
If you're researching cost, know our pre-designs relieve the cost of custom design & engineering.  They are built to last with all material in solid iron.  All fencing is fully welded to insure a quality long lasting, secure product. Every fence is custom built to the specifications of your project to insure proper fit, and equal picket spacing.
See our pre-designed Hairpin & Estate Styles here.
Photo Gallery
Take a look at just some of our work with fences. We take great pride in our work, and we know you will love it too.