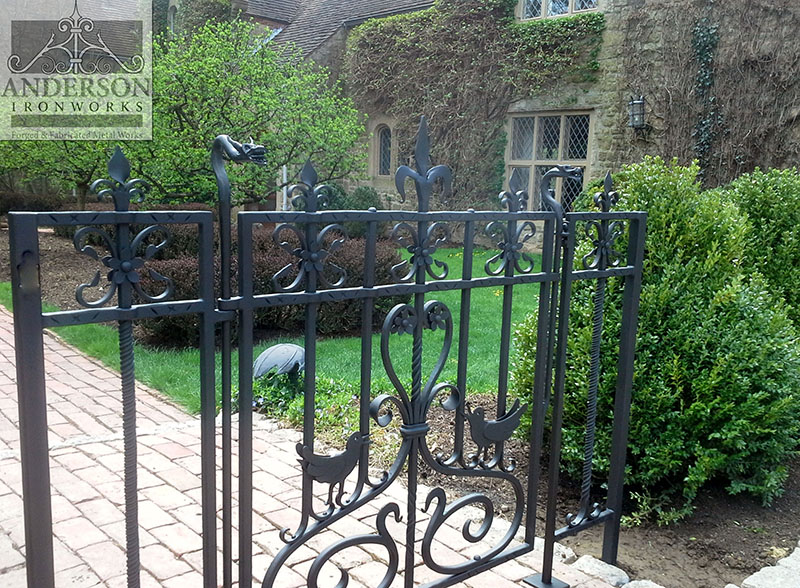 At Anderson Ironworks, we're known for our custom wrought ironwork for both residential and commercial properties. We create everything from beautiful exterior railings for your patio, to stunningly modern stairs for your office building. But when searching for the best welder for wrought iron in the Bucks and Montgomery County areas, look no further—we have the tools, capabilities, and experience you need.
Why We're The Best Welder For Wrought Iron
Welding wrought iron is not an easy DIY task, it should be done with great care and only by professionals in certain circumstances. If you wish to have a certain wrought iron piece restored, sometimes welding (either the wrought iron to itself or to mild steel) is required for reinforcement and stability. In these cases, you will need a welder for wrought iron with these three things:
Tools.  Welding wrought iron will require high quality materials, (e.g. wrought iron with low carbon and sulphur content), tools for making repairs (such as bolts resembling rivets) and more. Having been in the business for over 50 years, we're equipped with the necessary tools to tackle your repair effectively and aesthetically.
Capabilities. When it comes to decorative fixtures, welding should be done carefully and precisely by trained craftsmen. There is a certain amount of knowledge required for one to be able to test the material and successfully weld it without causing damage to the piece.
Experience. We've found that that we draw on our 50+ years of experience working with iron daily. We've seen almost every type of repair on almost every type of structure, which gives us the knowledge and flexibility we need to help our customers solve their ironwork repair problems.
Our Mobile Welding Capabilities
At Anderson Ironworks, we can bring our welding capabilities to you with our fleet of mobile welding trucks, available in breakdowns and emergencies. Our capabilities include:
Structural repairs
Historical items
Heavy equipment
Stainless steel kitchen equipment
Handrails and guards
Industrial equipment
Piping
If you're in need of a welder for wrought iron or other material, reach out to us today!