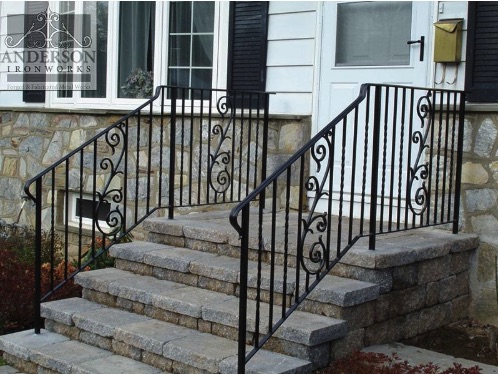 When it comes to designing the little details of your house or office, there's a lot to consider, and your exterior wrought iron railing is no exception. The exterior of your home is what makes the first impression, and the wrought iron finishing is what ties it together.
It's sturdy, long-lasting, and classically designed, but with so many options and looks, where do you start? Anderson Ironworks specializes in wrought iron and can help you find the perfect exterior wrought iron railing for you.
Consider Your Aesthetic – Your design aesthetic is the most obvious place to begin. Wrought iron railings can be made in a variety of styles and designs, so choosing one that fits your architectural space is important. Wrought iron railings can be classic and functional, or whimsical and modern. To get started, take a look at our portfolio for ideas, but keep in mind that everything is customizable, so if you have a certain design in mind already, we're happy to bring your dream to life.
Know Your Timeline – Depending on the timeline of your project, certain designs will be more feasible and keep lower costs. Our pre-designed ironwork is great for shorter project timelines.
Budget Your Finances – Installing exterior wrought iron railings doesn't have to empty your wallet! Anderson Ironworks strives to be as affordable as possible. It's important to consider your priorities when it comes to your railing. Certain designs, timelines, and installment requests can keep costs lower.
Call Anderson Ironworks for a Comprehensive Quote
It's our pleasure to work with you to create the exterior wrought iron railing that's perfect for your home or office. The first step is to meet with you to discuss your vision, timeline, and budget. Your perfect wrought iron railing is just a consultation away, so call us at 215-886-1170, or fill out our online form.