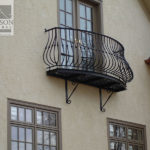 Wrought Ironwork Designs
Out of Main Line and the greater Philadelphia area, Anderson Ironworks specializes in wrought iron balcony designs and other custom-designed ironworks. Whether you have an idea in mind or would like to choose from pre-designed metalwork, Anderson Ironworks can help you bring your vision to life.
 We are a team of highly skilled and experienced wrought iron fabricators specializing in wrought iron, so if you're looking for wrought iron balcony designs, look no further! We can help you choose from pre-designed ironwork or personally design the wrought iron balcony railing that fits your personality and your business' or home's aesthetic. Check out our balcony portfolio for ideas!
Wrought Iron Balcony Designs – What to Think About Before You Choose a Design
Aesthetic – aesthetic is one of the most important aspects of wrought iron balcony design that you want to consider. Is your balcony for a home, perhaps outside a bedroom window? A more whimsical design might suit you well. Is your balcony outside a business? Then you may consider looking into a more classical and professional design.
Ornamental – How intricate do you want your balcony railing? We offer ornamental design, as well as simpler and plainer designs that feature vertical or horizontal bars.
Placement – While most of the balconies we do are outside of windows, we can do stand-alone balconies that sit slightly apart from your home or business as well.
Call Anderson Ironworks today for a Consultation with Professional Wrought Iron Fabricators
Whether you need wrought iron balcony designs for a personal or commercial property, Anderson Ironworks can help. We specialize in custom-designed wrought ironworks, predesigned metalwork, and ornamental fixings. 
The process is simple! Set up a consultation so we can work out an idea, timeline, budget, and other specifics. We look at your wrought iron balcony designs and map this out with you. Then we get to work! It's that easy. To start, give us a call at 215-886-1170 or fill out our online form. We can't wait to bring your wrought iron balcony railing design to life.