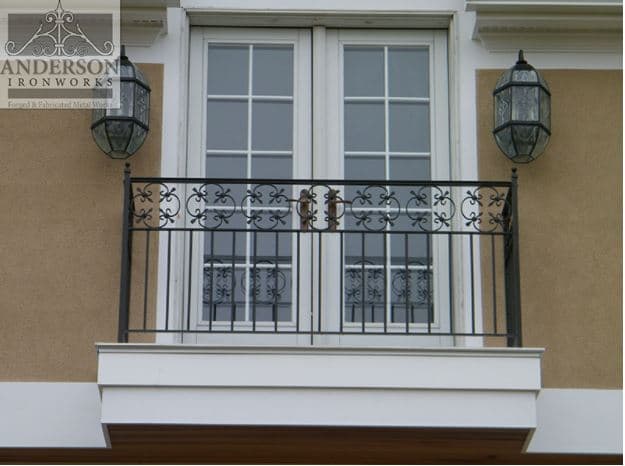 When you picture a classic dream home, a signature touch like a wrought iron balcony railing is sure to add a sense of tradition and elegance to what you're imagining. At Anderson Ironworks, old-world beauty is combined with expert craftsmanship to create a signature piece to enhance your home.
Designing  your wrought iron balcony railing
With Anderson Ironworks, our experts work with you to make your dream balcony railing. Perhaps you've been inspired by photos of wrought iron balcony railings or you have a unique creation of your design in mind.  During our first consultation, we love to see any sketches or photos of what you want. We will combine your ideas with our artistic and practical expertise.  Based on your timeline and budget, we will come up with the perfect piece that is eye-catching and that meets all standards of safety.
Creating a custom piece
After confirming that our planned design meets the desired look, we will craft your unique wrought iron balcony railing in our shop.  Because of our diligence in the consultation and confirmation process, you can rest assured that the result will look exactly as intended, from its perfect measurements to its final finish.
Our expertise will exceed your expectations
When you contract with us, you can be confident that the entire process and the final product will exceed your expectations.  We started this business 50 years ago and have worked to become the award-winning, locally accessible artisan experts you can count on.
If you're in the market for a wrought iron balcony railing crafted by experts, Anderson Ironworks has the craftsmen you're looking for. With our 50 years of experience and convenient location for Bucks and Montgomery County residents, you'll find quality and convenience a cut above the rest. Call us to make your appointment today.