Is Wrought Iron Good Material for Gates?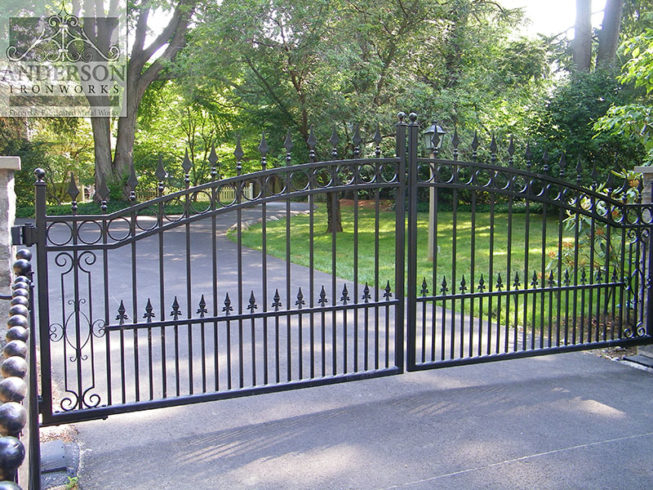 If you're looking to update your home or work place with a new entry gate, you may be considering the timeless aesthetic of wrought iron. Wrought iron gates are a classic architectural choice, and for good reason! Wrought iron is sturdy and tough, able to stand up to inclement weather and natural wear. It's resistant to corrosion, so you don't have to worry about rust eating away at your beautiful gate. Wrought iron is also extremely malleable under intense heat, which makes it the perfect material for welding into custom wrought iron gate designs. At Anderson Ironworks, our expert craftsmen are trained and certified to weld wrought iron, and we make it a priority to see your vision for your custom wrought iron gate come to life.
Design Your Own Wrought Iron Gate
At Anderson Ironworks, we have several predesigned ironworks to choose from, but we know each of our clients has their own vision for their gates. We take pleasure in making your dream wrought iron gate designs a reality. The process is simple – first we set up a preliminary consultation to hear your idea, your timeline, and your budget. Then we get to work designing, ordering the materials, and bringing your vision to life. We will even install the gate on site. Our craftsmen are certified and trained, and we have a over a collective 250 years of experience between us. We know our iron and we settle for nothing but the highest quality materials and service when welding and designing wrought iron gates.
If you're considering adding an architectural flair to your home and work space, we also specialize in:
· Balconies
· Archways
· Exterior Guardrails
· Driveway gates
· Fences
· Interior stairway railings
· Walk gates
· And more!
Check out our portfolio to see examples of our high-quality products or for ideas of your own!
To set up a consultation or get more information on why wrought iron is the right material for your gate designs, fill out our online form, give us a call at 215-886-1170, or visit us at 100 Ehrenpfort Ave, Oreland, PA.