For a product that stands the test of time, look no further than wrought iron. As beautiful as it is durable, wrought iron has played a role in architecture for much of human history! For the past 50 years, Anderson Ironworks has provided the Philadelphia area with beautiful wrought iron artistry. Today, we'll explain how you can have the classic, stunning elegance of wrought iron as part of your home or business. Let's explore the beauty of wrought iron railings.
Residential Wrought Iron Railings Add a Refined Touch
Interior Rails:

Every piece of furniture, and every decoration we select says something about who we are. Often, we overlook the design impact of stair railings despite their central location in the home. Instead, make your railings a stunning part of your design. As you can see in our sample work, even simple black iron rails provide a pleasing contrast to glossy natural wood. Accented by the custom design work at the top of the stairs, this look provides an elegant centerpiece to the entryway of the home.
Exterior Rails:

Wrought iron railings are a common exterior addition, but often folks aren't aware of just how many varieties are out there. The clean, graceful lines offered by a white stair rail, for example, are a great option that's often overlooked. At Anderson Ironworks, we pride ourselves on being artisans as well as blacksmiths. We'll make sure you're familiar with the many wrought iron railing options that would look great with your home. In addition, beyond stair rails, we offer railings for decks and balconies. No matter what you're envisioning your home, we craft the wrought iron railings South Jersey leans on.
Commercial Wrought Iron Railings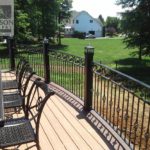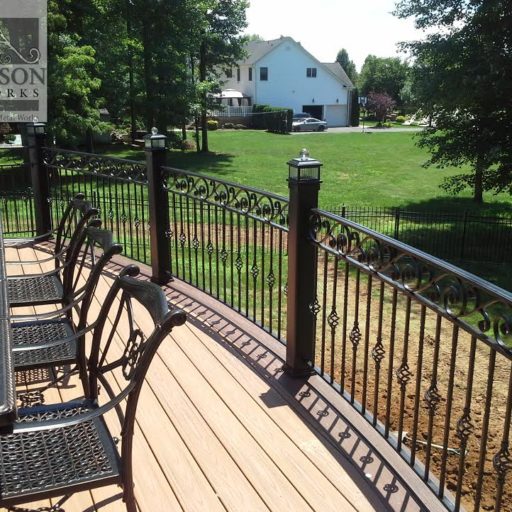 Whether you select from our pre-designed iron work or allow us to create something custom for you, you can rest assured in the safety of our product and the seamlessness of our process, from creation to installation. Beyond safety, our wrought iron stair and balcony railings create clean, elegant, inviting lines that draw the eye.
Call Anderson Ironworks for A+ Service
The design of your home or business is a reflection of who you are. When you hire Anderson Ironworks, you can trust we'll convey your style with craft and artistry.  As a second-generation, family-owned business, we pride ourselves on helping our customers connect with the precise products they need to complete their homes or businesses. We'd be happy to help you decide on the perfect wrought iron rail. Call us today for a consultation on any metalwork project.